Council #6451 Receives the Star Council Award for the Fraternal Year 2019-2020

Receiving the award is PGK, SK Eddie Williams (on the left in the top picture). Presenting the award is FDD, PGK, SK Bob Hall who offered two thumbs up to the council.




Three Lapel pins accompanied the award for the Membership Director, Program Director and the Grand Knight.
PGK, SK, George Brown Receives Founders' Award
for the Fraternal Year 2017-2019.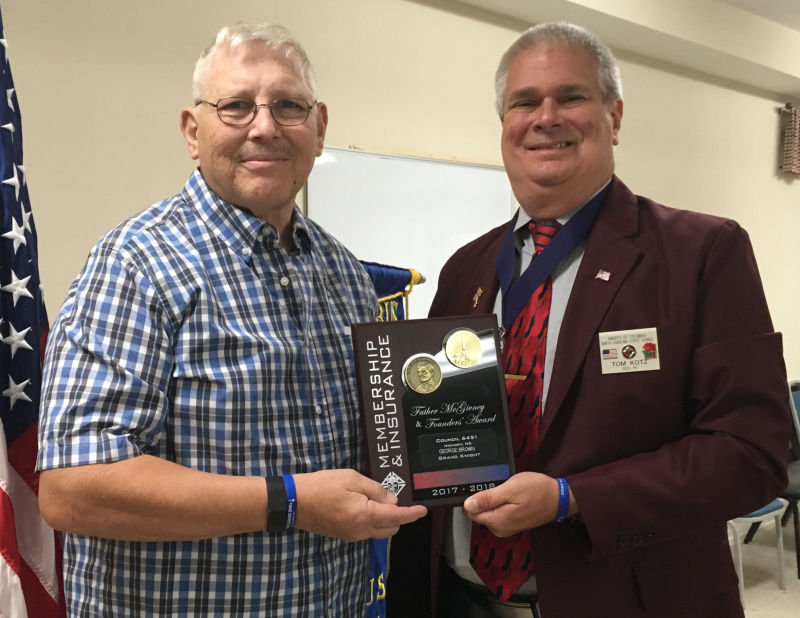 Presenting the award is Tom Kotz, PGK, FDD Regional District Deputy
Awards presented to Grand Knight SK Eddie Williams at the 2019 State Convention

Each membership goal is based on the Council membership quota set on July 1st of each Fraternal Year.

Fraternity​ is the third highest level of performance of key service programs for the Fraternal year of 2018-2019.

The Council Website Award, presented at the state convention, is given to three (3) Councils that maintain the best website during the Program Year. This is based on the website content and presentation.
State Secretary, Dan Lange, attended our meeting in February 2018 to present the
Star Award to our council for achieving 115% of our membership goal for last year.
Mr. Lange also complimented our council for the accomplishments we have achieved over the years.